Fining Automobiles On Bank Mortgage – Is It Necessary To Have An Auto Ownership Certificate?
Public opinion is heating up over auto owners being fined by traffic police for not displaying their original auto registration certificates held by banks as a mortgage.
It is a headache for almost everyone – car buyers on instalment plans and car mortgagors, while bankers are facing fear of failure of their car loan service. This scenario has led to multiple ideas and proposals including issuance of an auto ownership certificate besides an existing auto registration certificate.[1] This proposal may sound reasonable but should be considered from many aspects, especially as a matter of law, rather than dealing with this issue in an ad hoc fashion.
What do traffic police need from car owners?
Pursuant to the Law on Land Traffic, traffic police have the right to require car owners to show such papers as an identification card, driver's license, car insurance and vehicle registration certificate, which all serve the purpose of an administrative check and sanction. Ultimately, this check is aimed at verifying information about car drivers (and other vehicles in general) and other elements associated with the car (type of vehicle, vehicle owner, its traffic eligibility etc.). Is it necessary for car drivers to show an original vehicle registration certificate? For the purpose of obtaining information, it is clear that a copy of a vehicle registration certificate will satisfy the need for information verification. Furthermore, in the age of the internet, traffic police can instantly check all information relating to any vehicle, or their owners.
Technically, it is not requirement for traffic police require further information such as where the car owner sourced the money to buy the car, or if the driver is the car owner because these are civil arrangements are beyond the authority of police forces. The law allows citizens to borrow or rent a car from others, for example.
Is a vehicle ownership certificate necessary?
Before answering this question, we need to understand the nature of vehicle registration certificates. Pursuant to Article 106 of the 2015 Civil Code, a car is a movable asset of which ownership must be registered. A vehicle registration certificate itself confirms the registration that the owner has made for the car. Therefore, as a matter of law, this registration certificate is by its nature the paper which establishes the ownership right to such car. The proposal for splitting the current vehicle registration certificate into vehicle registration and vehicle ownership certificates is redundant and indicates a misunderstanding of the legality of the current vehicle registration certificate.
Economically, this separation, if any, only serves the need of a small number of car owners who have mortgage transactions while the majority of other owners do not have this need.
On the other hand, for cars which have been granted registration certificates, this split into 2 certificates may cause confusion in the establishment of ownership rights prescribed by the 2015 Civil Code.
The idea of splitting the vehicle registration certificate is no different from the previous "green book", "red book" and "pink book" proposals for land, or the proposal of changing driver's licenses into PET material. Luckily these proposals were soon protested and "whistleblowed" by the Ministry of Justice.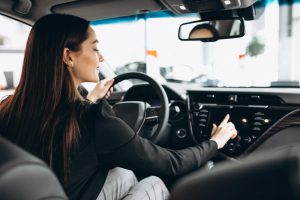 Respecting the property rights of a citizen under the Civil Code
Mortgaging a car to borrow money from a bank is essentially the exercise of the ownership rights of a citizen as the owner of his own property. Under the Civil Code 2015, owners are entitled to perform all acts in their sole discretion in relation to property unless it is contrary to law or prejudicial to a country, a nation, the general public or others. The agreement between citizens and the bank on handing over the original auto registration certificate to the bank is in full conformity with the Civil Code and does not prejudice anyone, so there is no reason to say this agreement violates the law[2]. The bank's holding of the original vehicle registration certificate aims to restrict the property disposal of a mortgagor, first ensuring compliance with the agreement of the two parties, and it is reasonable for the bank to control the mortgaged property while citizens (borrowers) are responsible for their loan. To date, this has been not just a professional practice but also a prevention of any risk of bad debts for banks. Depriving owners of the right to exploit their property in the pretext of administrative management is an infringement on the ownership of citizens and exposes the bank's loan-on-mortgage transactions to risk.
In addition, the law on penalties for administrative offenses in the field of road traffic[3] only stipulate that drivers of cars, tractors and similar vehicles who do not carry their vehicle registration certificate while in control of such a vehicle will suffer a fine. However, the law fails to specify whether this is an original or certified copy of the vehicle registration certificate. Therefore, citizens are entitled to use a certified copy as an ad hoc solution, and this is absolutely not contrary to law.
The said analysis shows that the current legislation is sufficiently detailed and capable of addressing any practical situation. So separating the vehicle ownership certificate from vehicle registration is not necessary. There is no need to amend the relevant legislation or enacting more legislation to address this issue. The concerned parties need to apply the Civil Code – original civil legislation – and respect the ownership of citizens and their freedom to enter into agreements between them and banks. Accordingly, traffic police should accept a certified copy of the Certificate, along with a letter from their bank, if necessary.
Lawyer Le Trong Them- Lawyer Ho Thi Tram
[1] See "Separating vehicle registration certificate from vehicle ownership certificate" at http://www.thesaigontimes.vn/162676/Tach-bach-giay-dang-ky-va-giay-so-huu-o-to.html.
[2] Article 320.1 of the Civil Code 2015
[3] Article 21.3.b of Decree 46/2016/NĐ-CP dated May 26, 2016